CANADA SENDS HER TRIBUTES TO RED ARMY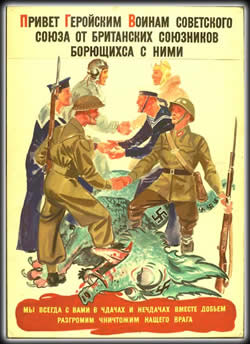 British government poster celebrating World War Two anti-Axis cooperation, Unknown, 1941, British Ministry of Information
Globe and Mail, February 23, 1943
Section 2c: World War II
Cabinet Ministers Cable Congratulations on Defeat of Invading Hun Armies
Ottawa, Feb. 22 (CP) — Members of the Government and other prominent officials today expressed, in formal messages, their congratulations to the army of the Soviet Union, which tomorrow celebrates its 25th anniversary.
The Canadian messages were cabled to the Soviet by Tass, the Russian news agency.
Prime Minister Mackenzie King in his message said,
"In Canada we are filled with admiration for the valor of the Soviet troops and the strategic genius displayed by their commanders.
"The vigor and endurance shown in the great defensive actions before Moscow, at Leningrad, at Sevastopol and at Stalingrad destroyed the myth of Nazi military invincibility. The immense and sustained winter offensive along a continent-wide front has encouraged all free peoples and given new hope of liberation to the conquered lands.
"The United Nations are all indebted to the Red Army for its determination, its military efficiency and its vast contribution to ultimate victory."
[...]
Labor Minister Mitchell, in his message, said: "The exploits of the Red Army have thrilled the people of Canada. There is a deep pride in the partnership that today is so close and intimate for the one object — to free the world of the menace of Nazi and Fascist domination."
[...]
Source
: No author, "Canada Sends Her Tributes To Red Army,"
Globe and Mail
, February 23, 1943