Willoughby Tells Spy Case's Import
Sorge Ring Had 'Parallels' In U.S., Canadian Probes
By Frank L. White
AP Correspondent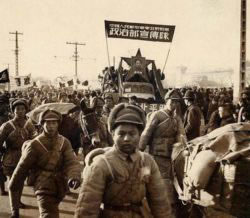 Communist forces enter Beijing, Unknown, 1949, Wikimedia
The story of Dr. Richard Sorge's spy ring in prewar Japan was released in the United States at this time because of its "education value" for the American people was the opinion of Maj. Gen. Charles S. Willoughby, chief of G2 Section SCAP.
In answer to a question whether there is evidence "a spy ring is operating here today against American interests," Willoughby replied the Sorge case had remarkable "parallels" in the Canadian spy ring, in the recent United States investigations of "leaks – and that's a mild word" from the State Department and others encountered in his 36 years Army experience mostly as intelligence officer.
"These suggest a pattern . . . I have no reason to believe this pattern does not continue in other countries," Willoughby added.
[…]
General MacArthur refused any comment either on the Sorge case or complaints by Agnes Smedley that she was unjustly accused on the basis of the reports from the Japanese secret police.
[…]
Willoughby said the material released in Washington was one of a series of intelligence reports dealing with the spy activities which his headquarters section...continually sends to Washington.
Source
: White, Frank L., "Willoughby Tells Spy Case's Import,"
Stars and Stripes
, February 12, 1949